Mexican free-tail Bats are the reason that my friend Amanda Lollar
devoted her life to bat rehabilitation. Her first bat was named Sunshine.
She was a Mexican free-tail bat. She wrote a book about her experience.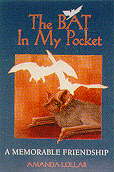 Click the book to see her site. Maybe make a donation to help feed the bats.

I met Amanda last fall and she told a group of school children that her
favorite bat is the Mexican free-tail bat. She has several Mexican free-tail
bats the she has rescued and she has to feed twice a day. She says that
each of the bats has its own special personality. She knows each one and
she hand feeds them through small small hypodermic syringes.