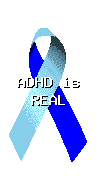 My take on ADHD
based on facts as
I have read and lived them
Hi! My name is Lise.
My moniker is Batlise because
I am fascinated by bats.
I hope you also checked out my
Bat Information Page.

First - a little information about my life now.
I live in a San Antonio, Tx. and I have been married for 25 years
I am a mom of two wonderful girls. One is a college and the
other is married and is doing her course work to be a lisensed
funeral director/embalmer. She is also the mom of my 2 year old grandson.
All three of us have some form of ADD.
My Girls have ADD, and I have ADHD.
My poor husband doesn't stand a chance.
As I said, both my girls have ADD. My youngest has
a lot of trouble paying attention in class. Like me
she has has learning differences, mostly in
reading/language. My eldest daughter's form of
ADD belongs to only 10% of the ADD population.
Rather than acting out or finding distraction,
she searches for distractions within herself.
She would rather curl up with a fantasy novel
than do anything else.
I have ADHD. ADHD is Attention Deficit Hyperactive
Disorder. There are times I take that hyperness
off the scale but never as bad as it was when I
was a child. ADHD shows itself in many ways. Here
are some things aboud ADHD that I have observed:

ADD exisists......


-where the primary problem is attention


-even if person does not always act out


-with the ADDED bonus of hyperactivity!


-where the primary problem is hyperfocus/inner escape

ADHD usually is not found with inner escape.


According to my psychiatrist,
depression is common in these kids


Social cues can be a problem for ADD/ADHD kids.
and some Adults too.


Kids that seek distractions
during class, usually have other
academic needs/learning disablities.

ADD/ADHD-intensity can vary
up and down a scale.


ADD/ADHD-not all need meds.
Some can manage with behavior stategies.

ADD/ADHD-you don't outgrow it.
You learn how to cope.
With all the varying degrees of inattention, hyperactivity,
impulisivity that can be found in each person, no one knows
all the answers from personal experience. It helps to talk
to someone who has some experince with it. It really helps
to talk to MANY people who LIVE with this! Many of my
students have some form of ADD. My experience with this
comes from the point of being a teacher, a parent, and
most important, an ADHD person myself. This is a problem
that plagues many people. Many of them really don't realize
that there are things they can do to cope with it.
ADD is a problem in the brain. It is mostly noted in
children who cannot pay attention in school. They most
often have trouble with staying on task, listening to
their teacher (especially one they think is boring)
completing any kind of task, staying organized, down
to holding on to a thought long enough to say it.
ADHD is all of that without the ability to sit still
for more than 2 seconds. It's hard to be a kid with this.
It's taken me a while to decide to publish what my life
in school was like. The length of this story may change
from time to time. I felt that this story needs to be told.
People need to feel that they are not alone. People need
to see that gains have been made in the public school system.
The ADHD difference is part of the basic chemical makeup of
anyone who has it.

It's harder when you're an adult.


When you're an adult you're supposed to be able to
sit in long boring meetings and know that you have to
do this because it's your job. When you're an adult
you're supposed to make yourself do unpleasant things
because you know, as an adult, you have to. As an adult
you stay organized and keep things in your house in
order because you are supposed to. You're a grown-up.
You are expected to be a responsible person.
If you have trouble doing these things, it doesn't mean
you're a bad person. Things slip my mind way too often.
I'm very forgetful, and sometimes sitting for one more
SECOND is impossible! Been there-done that-probobly today!.









I am an ADDult.









A person of "legal age" who has Attention Deficit Disorder.
I also have that little hyperactive "bonus". There are
days that I can't hold on to a thought. I can't get anything
done, and my house usually looks like a tornado hit it.
SOUND familiar? SOUND LIKE YOU???
There is a way to learn how to live with this. The MOST
wonderful thing for me was to find out that it's the way
the cards were delt to me, not a flaw in my character. I
finally had an explanation for the things I do, and don't
do, or forget to do. The draw back is now I know, and I
can't blame all my problems on the ADHD. I have to find
ways to cope. There are still some things that are hard.
Now I know the cause AT LEAST there is a direction I can
go. I may not always make it, BUT I'm doing a lot better
than I was this time 10 years ago.
ADD-ADHD cannot be cured.
This I have learned from years of personal experience.
The link below also backs up this statement. You CAN
learn to cope, but TRUE ADD/ADHD does not go away.
There are support groups on the internet and most likely
where you live there are people you can talk to.

Page update
April 24, 2005
Page created on
October 6, 2000